Dan Kennon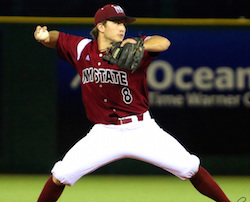 *Hitting, Defense & Pitching

Coach Kennon is from Deming, New Mexico. He has played baseball his entire life.  At 14 he moved to Florida to attend IMG academy's baseball program where he played along side some of the best high school baseball players in the country.
After high school Coach Kennon played third base for Seminole State College in Sanford, Fla. In 2013 where he was named a Mid-Florida all-conference selection during his freshman year at Seminole State.
His sophomore year he played shortstop for Pima Community College in Tucson, Arizona before accepting a NCAA Division I scholarship to New Mexico State University where he played shortstop his junior and senior season.
Currently Coach Kennon is the starting third baseman for the Bloomfield-Birmingham Beavers. The Beavers are part of the USPBL a professional independent league, based in Utica Michigan.  During his off seasons Dan has trained with Ray Quiles and brings a similar teaching style as Elite Baseball Training's most popular youth instructor!