Dan Puente
*Hitting, Pitching, Defense, Catching
* = indicates instructor is Digital Motion Analysis certified.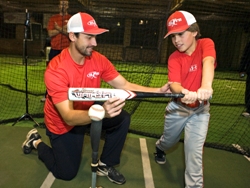 Dan grew up playing baseball on Chicago's North Side at Welles Park and attended Gordan Tech High School where he was an All-Catholic League catcher in 1999 and 2000.  Dan received a scholarship to Bradley University and immediately made an impact as a four-year player and three-year starter.  He was named as an Honorable Mention selectee to the All-Missouri Valley Conference team in 2003.  In 2004, Baseball America recognized Dan as the "Top Defensive Catcher" in the Missouri Valley Conference and selected him as a Preseason, 1st Team All-Conference player.
In 2004, Dan was drafted professionally in the 12th round to the Baltimore Orioles.  Dan started his professional career in the Appalachian League for the Bluefield Orioles.  In 2005, Dan progressed to the Low A, South Atlantic League for the Delmarva Shorebirds.  His career was cut short in 2006 after off-season shoulder surgery.
Dan's professional experience includes being a contracted professional scout with the Houston Astros and Manager of Youth Baseball Initiatives for the Chicago White Sox. Here he oversaw operations of urban youth baseball programs including the RBI program and Inner-City Youth Baseball programs engaging nearly 1,000 participants annually.  While with the White Sox, Dan organized the Double Duty Classic. The Classic is a minority all star game shaped to reflect the old Negro League All Star Game at Comiskey Park. The current game brings the top minority high school players from around the country to participate in a big league atmosphere, showcasing talent in front of a plethora of scouts. In Dan's time with the White Sox, 4 players from the ACE program and 7 players from the Double Duty Classic were drafted in the MLB Draft. 27 ACE players went on to play Division 1 baseball. The RBI teams were 3 time Division Champions and 3 time RBI World Series Runner's Up. Dan also did work in USA Baseball's Breakthrough Series each year in Cary, NC.
Dan is available for lessons in hitting, pitching, catching and defensive skills for Elite.
Coach Stone's comments on Dan Puente – "It's been fun for me to watch the progression of Dan from when I coached against him as a player in the Missouri Valley Conference to where he is now as an instructor.  Dan is truly a student of the game and has made himself into one of the most knowledgeable hitting instructors you'll find anywhere in the country.  If it were my own son, I would take him to lessons with Dan.  That's how highly I regard him as an instructor."