Peter Varon
Hitting, Defense, Pitching
Peter Varon played Division 1 Baseball at Oakland University in Rochester Hills, Michigan. Peter was an All-Conference and All-Tournament Team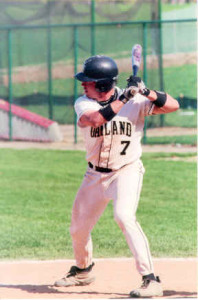 Member in 2002 with a .303 batting average, 13 home runs and 39 RBIs to go along with a team-best .596 slugging percentage.
Peter is Top 10 in Home Runs (Season and Career), Total Bases (Season), and Putouts at Oakland University.
In 2002, Peter was selected to be a part of the Greek Olympic National Baseball Team, which won the Gold Medal in the 2002 European Championships in Budapest, Hungary. Peter Batted .333 with 5 hits (2 homers), 11 RBI's, 14 runs, and led the team with 9 walks.
Peter played in the Frontier league in 2004-2005 with The Ohio Valley Redcoats and Mid-Missouri Mavericks, as well in the Pacific International League with Seattle Studs Baseball Organization from 2004-2007.
Aside from his love and passion for teaching the game of Baseball to today's youth, Peter spends his time at home with his wife Joanna, and son Daniel.
Peter looks forward to working with you in understanding the right approach, technique and work ethic needed in making you the best player and person that you can be.