Travis Kerber
*Pitching, Hitting, Defense, Throwing
* = indicates instructor is Digital Motion Analysis certified.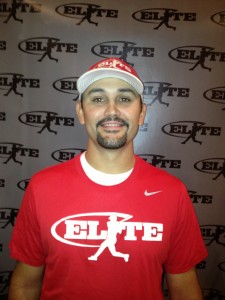 When scheduling Private Lessons with Travis Kerber please take note of the location indicated next to his name (Bash, Darien, Willowbrook, Valpo, Lynwood).  Elite Baseball Training cannot refund lessons scheduled at wrong locations.
Originally from Wisconsin, Travis was a catcher through high school into junior college. While at Madison Area Technical College, his team was ranked #1 in the country throughout the entire 1998 season. During the 2000 season he was named a Pre-Season All- American. He continued catching until his senior year in college, when he converted to pitching. The transition came quick and within his first 5 starts he ranked #3 in the country in strike outs per nine innings.
Travis played 6 years of professional baseball including time with the Cook County Cheetahs and the Gary Southshore Railcats. In 2005 as a reliever for the Railcats he posted a 1.33 ERA for the season over 47.1 innings. Travis began the 2006 season as a reliever and finished as a starter, posting a 2.78 ERA and being named an All-Star. While in Gary he also won two league championships in 2005 and 2007.
Travis worked for 10 years with the Chicago White Sox Academy, with 5 years being spent as Academy Director for the Sox in Tinley Park and NWI. In 2012 Travis helped with tryouts and recruiting for Team USA. He is available in several locations for pitching, hitting, catching, and throwing.
Travis is one of the most sought after instructors in the Midwest for his ability to teach several facets of baseball at a high level. He is the lead pitching instructor for the Elite Baseball Travel Program and is known for helping pitchers maximize their velocity while throwing strikes more consistently. His ability to teach hitting at the same high level is what makes him unique. Travis is known for his ability to break down high speed video and deliver the information to all ages.
Coach Stone's comments on Travis Kerber – "We're thrilled to be able to build our brand with the likes of Travis Kerber.  He is the most diverse instructor I've ever been around.  His personality and communication skills have made him an "instant hit" with younger players, and his research and knowledge of high end hitting and pitching mechanics has helped him develop some of the region's top players.  I always tell people, if it were my own son, I'd be taking him to Travis. In fact, I'd put him up with any instructor in professional baseball as well."